Click Banner to Visit Mnpctech website for Case Mod Supplies

I get asked frequently about recommendations for Tools I prefer for PC & Case Modding,

You're welcome to post your own Recommendations!

THINK SAFETY FIRST!
Safety Glasses
If you prefer some stylish and comfortable safety glasses, I wear these Smith & Wessons

Respirator Mask with canister filters
Use when sanding, painting or using any hazardous chemicals



Rotary Cutting Tool
The most versatile tool for case modding. You can cut plastics, metals, grind and polish. Dremel brand is most popular. Black & Decker and Craftsman versions are also popular.
My review of the Black & Decker RTX Rotary Tool, which retails for $39.99!!!!!
Dremel 225-01 Flex Shaft Attachment from Amazon
" The flex-shaft to be one of the most useful Dremel tool accessories. It's great for those remote, hard-to-reach areas of my work pieces where the width of the tool itself would hinder my efforts, ot it just can't reach. It took a while for me to get the hang of using it, since it required a bit more hand control than I originally anticipated. Just make sure to keep it as straight as possible, and don't bend it too much- it heats up pretty quickly, especially at the bends" - Zagnorch


Dremel Techniques For Case Modding, Part 1


Dremel Techniques For Case Modding, Part 2


I hear a lot of complaints about cutting discs breaking when cutting metal.
You need to use aluminum reinforced discs like these Reinforced Dremel Cutting Discs


Reinforced 1.5" Dremel Cutting Discs.
Power Drill!




Cordless Power drill


Minimum volts recommended is 14.4V, but 24v would be ideal with bit sizes 1/16 through for cutting various mounting holes and operating hole saw attachments.

Hole saw attachments for Drill
For cutting fan holes in acrylic and metal.

80mm = 3" hole saw
92mm = 3.5" hole saw
120mm = 4.5" hole saw[/b]
You can use 5.5" size Hole Saw Attachment for installing 140mm fans (140mm = 5.51181)
Amazon has good selections for 5.5" "Bi-Metal" Hole Saw attachment for your Power drill, HERE


Video Guide To Using Hole Saw Attachments For PC Modding

In order to use the Hole saw, you'll need an Arbor that fits your Powder Drill or Drill Press. Mine is 1/2"

Amazon.com: Lenox Tools 300033L Solid Shank Arbor for Hole Saw: Home Improvement




Here are some Handy template for Cooling Fan print-outs to download. (PDF Files) :thumb:

Before printing, you must select "None" for page scaling in your print dialogue box!

Download Page for FREE PC Cooling Fan & Radiator grill template download

140/280/420/560 Fan or Radiator Templates Download Page




Another Method for making holes in your PC case or chassis is a Greenlee Knock out Punch. These make very clean cuts, that don't require deburring the edges.

Greenlee part # 730EBB-120 Last time I inquired, they were around $450 in the states + Large 3/4" socket wrench, and 2" socket. I wouldn't use anything less than 19" long socket wrench. Estimated purchase price of $550 new.



Threaded shaft of Knock-out punch



Knock-out punch blade



Ready to cut hole.



You need leverage. Using 19" Socket wrench to draw in knock-out punch balde



Clean Cut



Video Guide on using Greenlee Knock Out Punch



Roper Whitney No. 5 Jr Hand Punch kit available here
Hand punch (estimate $60 new)



(for cutting fan mounting holes or enlarging existing fan mounting holes for rubber silencing grommets)



Hand Punch makes clean fan screw holes. No deburring.



Jigsaw
Used for cutting panels and acrylic sheets. (minimum 18 teeth metal cutting blade) Black & Decker brand Jigsaws available here




Hand files
Deburring jagged edges on both plastic and metal.




12" and 24" Combination Square Rulers are great for Aligning window cuts, fan holes etc



It's not considered a tool, but it's become common stable in PC & Case Modding, it's the "Tape of the Gawds" Good Ole, Scotch #4010 Super strength adhesion clear mounting tape. Used for mounting windows in computer cases.






If you plan to re-paint your Computer Case chassis, you'll need to dismantle it by drilling out the factory rivets with 1/8" drill bits. You must use a Pop Rive Gun to replace all of the rivets with new ones.

Pop Rivet Gun from Mnpctech




Pop Rivet Gun

You can get Black & Copper PC Chassis Pop Rivets from Mnpctech




Copper Rivets



Metal Nibbler
Cutting case panels



Metal Tin snips
Cutting Modders Mesh & Sheet metal
Save time and headaches!

Using 24 Pin ATX Power Supply Removal & Molex Pin Extractor Tools when custom sleeving your Power Supply and Molex connectors.
[b][b]A good SAE/Metric Hand Tap & Die Set will allow you to thread and repair stripped screw holes. For PC Modding & Repairs, I suggest purchasing a set that has tap sizes for 6/32 and 4/40 screws.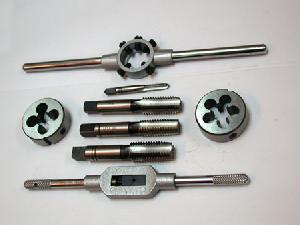 60 piece set for $39.99 on Harbor Freight




Drill bits for cutting Plastics
McMaster-Carr

Metal drill bits will not work for acrylic or plastic, they're made to bite into the metal as they are pushed into it. If they are used on acrylics they will chip and cause other damage to the plastic. When drilling holes for screws, you must make the hole larger than the screw itself to allow for expansion and contraction of the material. If not you will cause stress cracks at the hole and they will spread!




For custom wiring, you'll need a Soldering Gun or Wand

The ideal set up is this 40 watt "Soldering Station" by Weller (WLC100) $56.99 on Newegg
It hold your wand, for safety sake! You can adjust the Wattage. You can clean it on the included sponge, which rids the tip of oxidation that builds up on its surface, which accumulates rather rapidly and becomes a corrosive agent that will eventually eat away at the tip and ruin it.




This WELLER 8200is the type of Solder Gun I grew up with... A built-in light to illuminate your work, and heats up very quick with 100 - 140-Watts of heat.




Heat Gun for use with heating rigid acrylic tubing for liquid cooling or Cable & Wire Heat shrink tubing, bending acrylics/plastics
Ebay listings..
heat gun items - Get great deals on Home Garden, Business Industrial items on eBay.com!

To clean and debur edges of the rigid acrylic tubing for PC liquid cooling, you can use hand file or medium grit sandpaper. I've opted for quicker solution and used Plumber's tubing reamer. You can pick-up these Tubing / Pipe Reamers at most Home Improvement Stores, in their Plumbing Aisle. Pretty handy tool for this task, so placed a bulk wholesale order and stocking them here,

http://mnpctech.com/...ipe-reamer.html




Tubing Reamer / Deburr for Rigid Acrylic Tubing, used for Hardlined Liquid loops in Pcs




Place reamer on flat surface, hold it in place, apply pressure while twisting or rotating tube clockwise or counter clockwise between three blades, then flip reamer upside down and repeat for inner diameter.




...then flip reamer upside down and repeat for inner diameter.




It does decent job... you can also use medium grit sandpaper or hand file as alternative

Hand Gloves are Very Important addition to your Modding Arsenal
I've purchase a box of Disposable Latex & Rubber Gloves for these tasks
1. Handling Any Chemicals
2. Paint
3. Adhesives & Epoxies
4. Applying Thermal paste or handling CPUs or Waterblocks
I use Worker Gloves for Safety in tackling these tasks
1. Handling any Dirty Materials like Bare Steel or Aluminum
2. Hand Filing Metals
3. Using Hand Power Tools
4. Using Vertical Saw to cut small pieces of material